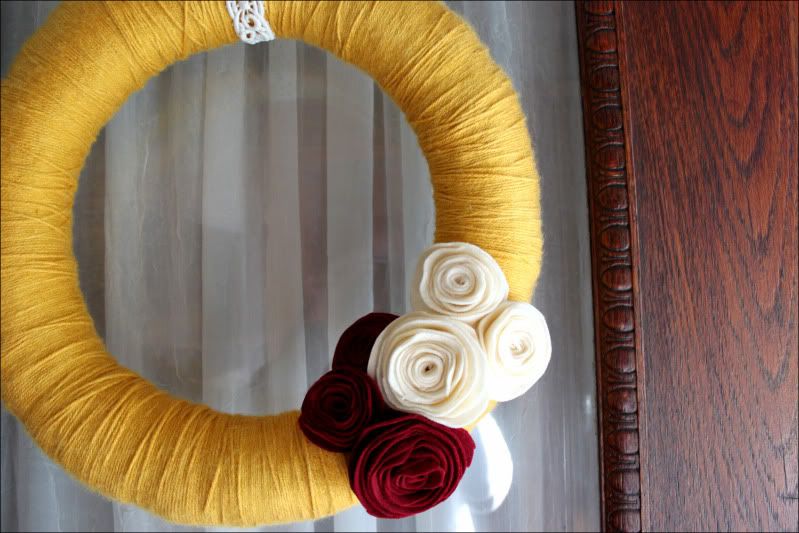 DIY Yarn Wreath with Felt Flowers
This is one the very first things I pinned on Pinterest. I kinda adore wreaths and the mustard colored yarn had me in. It wasnt till recently that a crafty friend of mine offered to help me and another friend do something we had "pinned". We made these necklaces:
She brought over her sewing machine and all the supplies. Its been over 10 years since I regularly used a sewing machine so I was very rusty. And honestly, felt very lost at what I was doing. Thankfully my friend was there to help me step by step all the way through. My necklace didnt look just like the picture but I was happy with how it turned out and may even try it again. I was left though, with a feeling of wish I could be more crafty. How my whole crafty board on Pinterst suddenly became this untruth about me. I gave off this impression of these things I planned to do or how creative I claim to be. And I wanted to be creative in this way, I remember really enjoy this sort thing it had just been a very long time.
So today, I had a lot of free time on my hands (those days are numbered as summer comes to a close and my calendar already has many weekends filled up) I went to my crafty board to check out the instructions on this wreath. I had bought the yarn a week or so ago and just be needing to get the rest of my supplies and really note how to go about making this awesome yarn wreath.

(As you can see, Oliver clearly thought I bought the wreath for him.)
A few tips if any of you have also pinned this awesome wreath (to go along with her numbered directions):
1: She says to leave the plastic wrap on. I couldnt image doing this without it – even some of the straws came out of plastic as I was wrapping it and it was not comfortable. Also, Im not sure what size wreath she got but mine is 18 inches, which is only $5 bucks at Michael's. Take in a 40% coupon and its only $3. Awesome start.
Also, she used Vanna White yarn which is awesome for knitting, but as a tip, I got my yarn at Wal-Mart. Doesnt have to be high quality since no one is going to be touching it.
2: To be fair, she did say wrapping the wreath with yarn will take a while. She is totally right, it too me a solid 3 episodes of Alley McBeal (speaking of which, if anyone else is watching it on Netflix instant can we please chat?! So much to talk about.) to complete wrap my wreath. Thats 2.25 hours! So yes, cheap craft money wise but make sure you have an afternoon to give to this. Maybe watch a movie while doing it.
3: The felt flowers are so much fun to make. A sheet of felt is on 29 cents at Michaels too! See, cheap craft, love it. I had the best luck with the flowers that where half a sheet size. Super easy and cute.
4: I can not for the life of me find my hot clue gun (Mom? Do you know where it is? I feel like you used it last… almost two years ago for my wedding) so it was just basic glue for the flowers as of right now. I figured since I will hot gun them on that its safe to just use simple glue for now. So far so good.
5: Using left over bridesmaid bouquet ribbon as the hanger when I put it up. Its amazing how much 'wedding' stuff we still have.
6: I havent found its home just yet since it is an indoor wreath. Maybe above the fireplace? Maybe in the new living/sitting area?
Im excited how it turned out and proud I did it on my own and it actually does look like the wreath in the picture (well other than I add more flowers). This has given me that something I needed to try and be craft again. I think I just may ask for a sewing machine for Christmas.